Ceiling fans are a great way to keep your home cool during the summer, but sometimes they can smell hot.
With household appliances, after a period of use, there is a possibility of fire and explosion. So is the ceiling fan. This will be a big accident if you don't know how to handle it.
In this post, Toby Nwazor from ceilingfanswiki.com will help explain Why does my ceiling fan smell like it's burning? and show you how to deal with it. At the same time, the author also shared how to prevent ceiling fan fire.
Why does my ceiling fans smell like it's burning?
There are a number of reasons why your ceiling fan might be emitting a burning smell. One is usually nothing to worry about but two are cause for concern, so if this happens to you, make sure you act quickly to resolve the issue before it has the potential to escalate.
Faulty Wiring
Odors caused by faulty conductors create sparks between them and the conductive surface. If the breaker connected to the ceiling fan tripped, this is most likely the cause of the burning smell. If you see any signs of black soot on the fan near the wires, this is another sign that the wiring is faulty.
Engine Overheating
If your ceiling fan hasn't been cleaned for a while, it's likely that you'll notice dust and dirt build up around the engine vents. If this happens, the engine may find itself overheating because it cannot escape heat through the dust vents. It is important that you clean your ceiling fan regularly to avoid this. We've got an entire article on overheated ceiling fans and how to prevent them.
The accumulation of dust or dirt
If this debris is large enough, it can block the ceiling fan's vents, causing it to overheat and catch fire. Remember, your ceiling fan is attached to the ceiling, which is made of roofing with wooden slats on top. Heat can cause all of these materials to catch fire.
Anyone have any idea why my ceiling fan would be smoking and smell like its burning something?

Source: https://twitter.com/
Newly purchased fan
If you smell a burning smell on a newly installed ceiling fan, that's less of a concern. Generally, when running a new ceiling fan for the first time, this smell can come from excess oil used to lubricate components. Generally this should subside after running the fan for a while. However, if the smell persists, you should take a closer look.
Is it usual for new ceiling fans to have a smell?
If the odor you are experiencing is normal, it should go away within a few hours to a few days. It will be different for every fan.
In general, however, the longer your new ceiling fan runs, the faster the odor will go away. When the fan runs, the fan will dissipate into the air and become undetectable and the excess oil will be burned.
On the other hand, if the smell doesn't go away, it could be a sign of a problem. Problems with odors from your ceiling fan are usually caused by an electrical problem. These odors can be described as burning, smoky or burning.
If you notice any of these problems with odors, it is important to contact a professional electrician and consult the manufacturer for more information.
How to prevent ceiling fan fire?
Ceiling fans are a great way to keep your home cool, but they can also be a fire hazard if not properly maintained. Here are some tips to help prevent a ceiling fan fire:
-Using high-quality fans to ensure long life, high efficiency, quality components meet the general standards of equipment.
-Inspect your ceiling fan regularly for any signs of wear or damage.
-Make sure that the blades are tight and do not wobble.
-Clean the blades and other parts of the ceiling fan regularly to remove any built-up dust or or debris that could potentially catch fire.
-Never use flammable liquids, such as gasoline, to clean a ceiling fan.
-Do not operate a ceiling fan in an enclosed space, such as a bathroom, where the air is not able to circulate properly.
-Do not use a ceiling fan if it is making strange noises or seems to be vibrating excessively.
-The fan should be kept away from combustible materials and entangled items, easily caught in the fan such as lanyards, plastic bags, thin windscreens, etc.
-Turn off the ceiling fan and unplug it from the power source before performing any maintenance or cleaning.
-If you notice any frayed wires or other damage to the wiring of your ceiling fan, have an electrician repair it as soon as possible.
How likely is it that a ceiling fan may catch fire?
The likelihood of a ceiling fan igniting is quite remote. According to reports, ceiling fans may be the easy scapegoat for home fires and can be responsible for between 3 and 6 percent of all fires. Because they are mounted on the ceiling, ceiling fans are more prone to burn out because they are exposed to more direct flames. They provide a simple explanation for how the fire began due to the extent of the destruction.
Additionally, if there is a fire below the fan, the flame will pass through the drywall hole where the power for the fan is situated. The testers concluded that the fan was overheating in the improbable event that it should since this caused the ceiling joists to burn. The proportion of ceiling fans that are thought to be the cause of house fires is still minimal, notwithstanding the possibility of a mistake in the diagnosis of a home fire.
Can Leaving Fan On All Night Cause A Fire?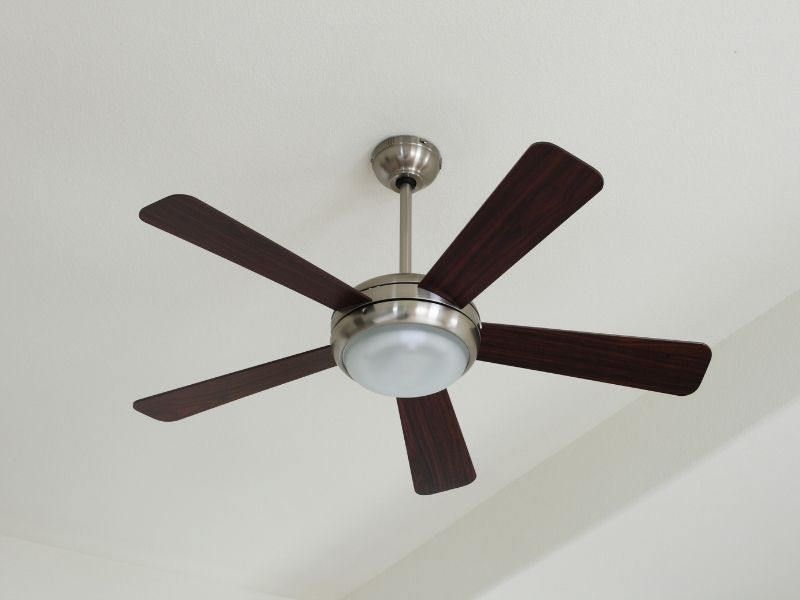 Leaving any fan running all night has the potential to catch fire, but the same can be said for leaving a fan on all day. Any appliance left running for long periods of time can cause it to overheat and catch fire.
The danger lies in the fact that the fire starts while you are sleeping. If you are asleep, your response to the flame will be substantially delayed or you may not react at all. One of the leading causes of death in fires is smoke inhalation. If you inhale enough smoke before you wake up, you are likely to pass out while the fire rages through the house.
Therefore, it is best to turn off all devices before going to bed at night to maintain your personal safety and the safety of your family.
F.A.Q Why does my ceiling fan smell like it's burning
Is it common for a ceiling fan to become hot?
Fans, indeed, get heated. It's because they run on the most prevalent motors – AC motors. When such motors are in use, they grow quite hot. Heat is dissipated into the area via the fan housing when the ceiling fan operates.
Why does my ceiling light smelling like it's on fire?
If the wires are not properly connected, you may sense a mild burning odor when you keep your fixture on for an extended period of time. Because this stench is frequently created by a live current sparking and charring the fixture material or wire coating, it is far more dangerous than others.
Is it normal for a ceiling fan to smell?
Because it is natural for new ceiling fans to smell, no action is usually necessary. The odor will go away in a few hours to a few days. However, if the odor lingers, develops stronger, or is accompanied by sounds or excessive heat, it may indicate a more serious problem.
Can ceiling fans catch fire if they overheat?
Leaving any fan on all night has the potential to catch fire, but so does leaving a fan on all day. Any appliance that is left running for an extended length of time might overheat and catch fire.
Conclusion
Ceiling fans are a common household item, but they can also pose a fire hazard if not properly maintained. In this blog post, we've looked at some of the reasons why your ceiling fan might be emitting an unpleasant smell and how to fix the problem. You also best ceiling fans for cooling at our website.
We hope you found this information helpful. If you have any questions or concerns, please don't hesitate to reach out to us.