Guide
How long do ceiling fans last? What are the signs that you need a new one?
How long do ceiling fans last? Ceiling fans have an average lifespan of 10-15 years, but some fans can last much longer with proper maintenance. To keep your ceiling fan running smoothly and extend its lifespan? In fact, contrary to popular belief, ceiling fans require regular maintenance to keep them running smoothly and looking their best.
So how long do ceiling fans last, exactly? And what can you do to make sure your fan lasts as long as possible? Keep reading ceilingfanswiki.com for Toby Nwazor's answers to these questions and more.
How long do ceiling fans last?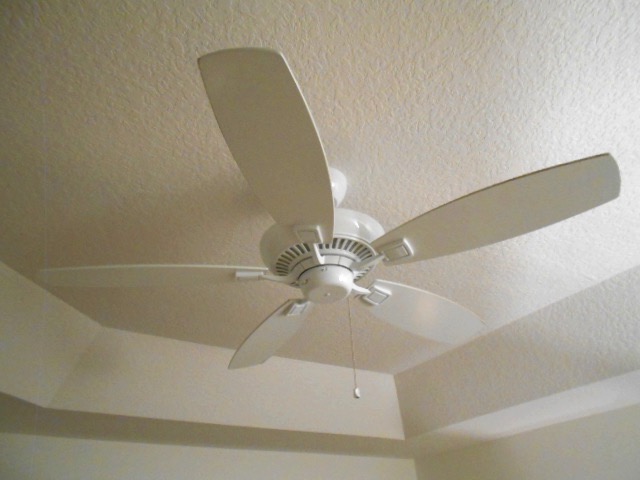 Ceiling fans are designed to endure for a maximum of ten years, some of higher quality may last up to 10-15 years before having to be replaced, depending on how often you use them. Homeowners who rely heavily on their ceiling fan to remain cool during the summer can anticipate replacing or at the very least maintaining their fan by the end of the decade.
You want to maintain the value of your home by investing in ceiling fans that will last as long as feasible. Now, engage a professional electrician who specializes in ceiling fan repairs, and delegate all of your ceiling fan's functions to him or her.
What Are Signs You Should Replace Your Ceiling Fan?
If you are having difficulty turning your fan on or off with the pull chain switch, there may be an issue with the wiring inside your ceiling fan. It is important to get professional help right away to avoid any further damage and ensure that your fan is functioning properly.
And, if at all feasible, determine if the ceiling fan requires replacement or repair. Work as needed, or take it to another professional's shop if you choose not to.
Your fan blades are swaying.
A ceiling fan is designed to rotate its blades in a circle to provide air movement, but if the blades wobble or the fan itself moves, there is a risk that the entire device will fall, posing a slew of hazards.
A wobbly fan indicates that there are problems with the internal installation. Your blades could be imbalanced, which is a relatively simple fix, or you could be dealing with a more serious problem. Consult an expert as soon as possible to correct the wobbliness.
Ceiling fan blades drooping
It's most likely because you have an indoor fan installed in a damp, outdoor location, such as a screen porch.
Indoor fan blades sag over time because they are typically made of a composite wood product that cannot withstand the changes in humidity on a covered porch.
Furthermore, the metal components of an interior-rated fan installed outside will rust prematurely
The ceiling fan becomes overheated.
When you leave your ceiling fan running for an extended period of time, it can overheat. Even if your fan's moving parts are well-oiled, they will generate friction with one another. This friction can then be released as heat. While heat alone isn't immediately dangerous – though it can cause significant fan damage in the long run – it becomes a more concerning force when combined with the unique conditions in your home.
So what friction? Toby Nwazor gives us a clear understanding of this:
friction, force that resists the sliding or rolling of one solid object over another.

Source: https://www.britannica.com/
Making a squeaky sound even after oiling
If your ceiling fan is beginning to produce unusual sounds, wobbles, or does not seem to be operating as effectively as it previously did, it may be time to begin looking for a replacement.
Any form of loud buzzing or squeaking sounds, as well as thumps and creaking, should be taken seriously. They might indicate that your fan is incorrectly connected or badly manufactured, and it may be necessary to remove it in order to identify whether or not there is a more significant wiring problem.
Technical difficulties recur even after a competent remedy
If you find yourself needing to regularly repair or replace components on your ceiling fan, this is one of the clearest signs that you need a replacement. If your ceiling fan seems to be in constant need of maintenance, it may be time to invest in a new one.
Besides being a hassle, it may also be rather costly in the long term.
Speeds Declining
Poor airflow might result in hot or cold areas in your room if your fan does not spin swiftly enough or circulate the air efficiently. On hot summer days, you may notice that one part of the room is much warmer than the other or that it is hard to chill the whole space.
If the speed of your ceiling fan is decreasing, it might be an indication that your motor is malfunctioning, that there are loose wires, or that you need to replace your ceiling fan.
Your ceiling fan is no longer in fashion
A ceiling fan can be a true center point in a space, so you want it to complement your interior design aesthetic. Decorative ceiling fans, like everything else, become dated with time.
At any fan store, you'll find a wide selection of indoor and outdoor ceiling fans with the latest designs and on-trend finishing options, such as polished nickel or oiled copper.
Whether you prefer an ornate design or a sleek, minimalist look, you want to change your ceiling fan, before you even think about it. Check it out with Toby Nwazor
How does a ceiling fan work?
Ceiling fans use less energy than AC
You can find the perfect ceiling fan for your home
Lighting + Ceiling Fans + Home Decor = Harmonized Home by CANARM. A way to bring joy to your home while reflecting your personality.

Source: https://twitter.com/
Installation affects the quality and life of the ceiling fan
The accessories that come with the ceiling fan must be authentic
It is never a good idea to get a ceiling fan and then drown. To add something extra to your ceiling fan, we always suggest installing a kit from the manufacturer.
If you have an electrical issue, you must call in a professional electrician (ordinary people can have an accident while working on these)
Choose the ceiling fan speed that suits your space
In most cases, ceiling fans have three speeds to choose from: slow, medium, and fast speeds, for example. In order to comprehend why they are revolving more slowly than the preset, you must first recognize that there is a short circuit.
The kits you are utilizing in your ceiling fans are at the very least having an effect on the power of the fan itself. However, make certain that you are using a halogen bulb that is not the appropriate wattage.
As a result, if you want to operate the ceiling fan in a more sophisticated manner, you must choose LED lights, which use less power while providing more light.
Combine cooling to increase ceiling fan usage time
When you use your ceiling fans with air conditioning, you will feel much better. I'm not suggesting that you use them in conjunction with a ceiling fan. You will never want to squander any more money in the same sector, and these two are working in the same segment as well. However, in the winter, your ceiling fans function in the same manner as they do in the summer; the warm air rising above the home travels throughout the house and keeps your floor warm.
F.A.Q How long do ceiling fans last
Is there a lifetime for ceiling fans?
It is said that the answer to the question of how long do ceiling fans last is between 6 and 10 years, with an average lifespan of 8 years. Most ceiling fans nowadays are sealed machines, however, some need the injection of oil on an annual basis via a port on the top of the motor housing, near where the downrod is located.
Additionally, installing an interior-rated ceiling fan in an external position will result in a lower life span.
Do ceiling fans simply cease operating for no apparent reason?
It is possible that the circuit breaker has tripped or that the power has been turned off. Check your control panel to be sure. If the circuit breaker functions properly, it is possible that there is an issue with loose wiring and connections.
It is also possible for your ceiling fan to cease operating owing to internal issues, such as damaged ball bearings or an overheated motor.
Is it possible for a ceiling fan motor to screw up?
Ceiling fans, like any other item, wear down over time and must be replaced at some point. When a ceiling fan is broken, it signifies that it is not functioning properly.
Occasionally, ceiling fans get damaged to the point where they cannot be repaired and must be replaced.
Fan motors that have burnt out are a specific example of this problem.
Is it possible to change the motor on a ceiling fan?
Certainly, if it turns out that the motor is the source of the issue, you may have it replaced. Some motors are as simple as plugging them in and out of the fan. If you don't know how long do ceiling fans last, you'll have to manually wire the new motor into position, making sure the colored wires are all the same color.
Conclusion:
Ceiling fans are a great way to improve air circulation in your home and can help you save energy. But how long do ceiling fans last, while they may last for many years, is it important to keep them clean and well-maintained so that they continue to run efficiently?
By following these tips, you can ensure that your ceiling fan lasts as long as possible. Have you ever had to replace a ceiling fan? What was the process like?